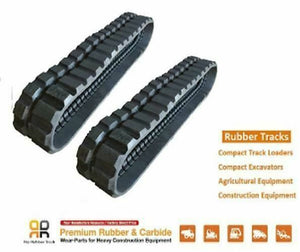 This listing contains rubber track 300mm (width) x 55.5 (itch) x 78 (link) can be utilized in next following machines:
Yanmar VIO25 VIO27 offset
MATERIALS / DESIGN:
·
Joint-Less Internal Steel Cord Technology
·
5-ply symmetrically wound heavy-duty steel cable braiding
·
Integrated Single-Molded Tread Bars
·
Available in a wide variety of sizes and tread- patterns.
We also have mostly mini excavator and CTL rubber track like : BANDIT, CATEPILLAR, CASE, CAT-MITSUBISHI, DAEWOOD, DITCH WITCH, DYNAPAC, GEHL, GELMAX, IHI, ISEKI, IMEF, JCN, JOHN DEERE, KOBELCO, KOMATSU, KUBOTA, LEADER, LIBRA, NEW HOLLAND, TAKEUCHI, THOMAS, TRAC, TRAX, VOLVO, YANMAR.
About Rio Rubber Track, Inc.
Rio Rubber Track, Inc. manufacture rubber undercarriage parts such as: track-pads, conveyor belts, vibration isolators, solid rubber tires, continuous rubber tracks, and carbide teeth for road milling & paving equipment, excavators, pile drivers, vibro-compactors, and compact track / wheel loaders.
Our main distribution facility in Temecula, California and our warehouse in Warminster, Pennsylvania serves equipment requirements throughout North America and welcomes inquiries from OEMs, dealers, and equipment support groups. We are also a regular exhibitor at major American trade shows such as: World of Asphalt, World of Concrete, and CONEXPO/CONAGG. 
Delivery:  This rubber track is free of shipping only within U.S. mainland (commercial area) or freight terminal within an economic time frame. Shipping weight of over 125 Lbs to a residential area will incur a fee of $70.00. We will ship it out right away once the payment is cleared.* For delivery in the US, expect 2 - 4 business days. Rural areas & regions not serviced daily by major shipping carriers may require more time for delivery.
* We can ship out of either our Pennsylvania or California State warehouses for fast shipping times!
Rio Rubber Track, Inc. provides 12 months for mini excavators rubber tracks against workmanship, materials and manufacturer's defect. We provide 6 months for Skids Steer rubber tracks against workmanship, materials and manufacturer's defect.  
This listing price is not included taxes. Rio Rubber Track, Inc. do accept most credit cards like AMEX, Visa Card, Master card and Paypal.
Rio Rubber Track, Inc. has 7 days money back with any items that has not been used or with defeats base on the invoice day.  Please make sure the track size match to your machine before you purchase. Rio Rubber Track, Inc. has discretions for credit, exchange or replacement.  Make sure to get RMA # (Return Merchandise Authorization) before your return any items.
Before purchasing, please make sure rubber track size match with your machine.